[header.view-review]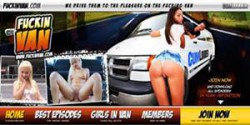 [rate.content]
| | |
| --- | --- |
| [rate.quantity] | 12/15 |
| [rate.content_quality] | 15/15 |
| [rate.novelty] | 9/10 |
| [rate.exclusivity] | 10/10 |
| [rate.download] | 9/10 |
| [rate.subtotal] | 55/60 |
[rate.navigation]
| | |
| --- | --- |
| [rate.simplicity] | 10/10 |
| [rate.design] | 10/10 |
| [rate.subtotal] | 20/20 |
[rate.rate.other]
| | |
| --- | --- |
| [rate.originality] | 10/10 |
| [rate.quality] | 8/10 |
| [rate.subtotal] | 18/20 |
FukinVan.com ti guiderà verso il piacere dei sensi, non dovrai far altro che salire a bordo del furgoncino dell'amore… il veicolo più volgare e osceno che abbia mai battuto la strada! Le ragazze non vedono l'ora di farsi una bella e sana "cavalcata" on the road! Il furgone più ambito dalle troiette esibizioniste di tutto il globo, potrebbe passare anche sotto casa tua e potrai salire a bordo tutte le volte che lo desidererai.

Contenuto:
Le scopate in macchina hanno il gusto del proibito, con la differenza che un furgoncino è molto più comodo e si possono provare tutte le figure del Kamasutra! I video sono di ottima qualità e tutti in HD, puoi vederli in streaming o scaricarli comodamente sul pc o su un qualunque altro dispositivo mobile. Naturalmente, non mancano le gallerie fotografiche, di qualità altrettanto eccellente. L'unico neo è che il sito non è in italiano, ma… il linguaggio del sesso è universale, perciò poco importa! Con l'iscrizione a FukinVan.com si ha la possibilità di accedere a ben 16 siti bonus: Cum Louder Tour, Spoof Porn, Living with Leyla, Boobday, Handjob goddess, Bitch confession, Pornstar Fisher, Cocks XL, Breaking Asses, Stunning Butts, Latin Asses, Street Suckers. Living with pornostar. Boldly Girls, e Give Me spunk. Inoltre, puoi chattare con le ragazze Fayna Vergara, Noemi Holie, Leyla Black!
Navigazione, sicurezza e supporto:
La fruizione dei contenuti è davvero semplicissima grazie al menù orizzontale, che permette di accedere a tutte le sezioni del sito in modo intuitivo: i migliori episodi, le ragazze e l'area membri. L'abbonamento di prova ha la durata di 1 giorno e costa 1 euro, l'abbonamento mensile costa 29.95 euro, quello trimestrale 49.95 euro e quello annuale 89.50 euro. Il pagamento è effettuabile comodamente online, con carte di credito Master Card, Visa, Maestro, Visa Electron, Diners Club International. La sicurezza dei dati è garantita una piattaforma con crittografia a 256 bit, per una protezione assoluta contro ogni forma di malware e di tentativo di frode online. Inoltre, in caso di necessità è disponibile anche un valido servizio clienti.
[pros.and.contra]
Video in HD e foto ad alta risoluzione
Non disponibile in lingua italiana
[header.video]
[quantity]

Abbondante

[quality]

ottima

[video_format]

[watermark]

[key.no]
[header.pictures]
[quantity]

abbondante

[format]

Jpg

[watermark]

[key.no]
[header.cost]
[trial]

1 giorno di prova a 1 euro

[prices]

abbonamento mensile 29.95 euro, abbonamento trimestrale 49.95 euro, abbonamento annuale 89.50 euro

[payments_option]
[header.misk]
[owners_info]

Monetia S.L

[exlusivity]

Si

[languages]